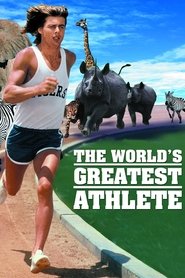 The World's Greatest Athlete (1973)
Coach Archer is has not won anything in any sport that his school has participated during his tenure. Now the head of the Alumni Association, who was one of the people who endorsed him for the job, feels like Archer is making him look bad. He then tells him that this coming season is the last on his contract and will be his "last" unless he turns things around. He and his assistant, Milo go to Africa for a little vacation. While there they discover a man named Nanu, who grew up in the jungle after his missionary parents died, and who is also by all aspects the greatest athlete in the world. And if Archer can get him back to the States, he can save his job. However, Nanu is happy where he is. So Archer tricks him into doing an act by jungle law obligates him to be with Archer. When they arrive Archer gets him into the school and gets him a tutor, Jane. The two of them fall for each other the moment they meet each other. This does not make Leopold, her former boyfriend, very happy, so he schemes to get rid of him.
Duration: 93 min
Quality: HD
Release: 1973
Movie Tagline: From the JUNGLE to the GYM...He's the Greatest!
5.7