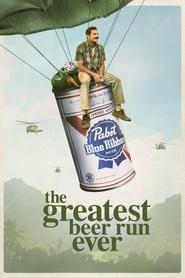 The Greatest Beer Run Ever (2022)
Chickie wants to support his friends fighting in Vietnam, so he does something wild—personally bring them American beer. What starts as a well-meaning journey quickly changes Chickie's life and perspective. Based on a true story.
Views: 8
Director: Peter Farrelly
Cast: Archie Renaux, Bill Murray, Christopher Reed Brown, Hal Cumpston, Jake Picking, Joe Adler, Kevin Tran, Kristin Carey, Kyle Allen, MacGregor Arney, Matt Cook, Paul Adelstein, Ruby Ashbourne Serkis, Russell Crowe, Shirleyann Kaladjian, Will Hochman, Will Ropp, Zac Efron
Country: USA
Duration: 126 min
Quality: 720p HD
Release: 2022
Movie Tagline: Friendship has no last call.
3.5