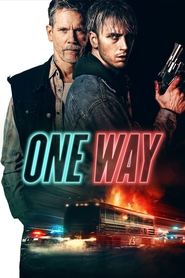 One Way (2022)
On the run with a bag full of cash after a robbing his former crime boss—and a potentially fatal wound—Freddy slips onto a bus headed into the unrelenting California desert. With his life slipping through his fingers, Freddy is left with very few choices to survive.
Views: 1
Genre: Action, Box Office, Crime, Thriller
Director: Andrew Baird
Cast: Casie Baker, Danny Bohnen, Drea de Matteo, Kendall Dugan, Kevin Bacon, Luis Da Silva Jr., Machine Gun Kelly, Meagan Holder, Rhys Coiro, Scotty Bohnen, Storm Reid, Thomas Francis Murphy, Travis Fimmel
Country: USA
Duration: 90 min
Quality: HD
Release: 2022
Movie Tagline: No wrong turn goes unpunished.
4.2