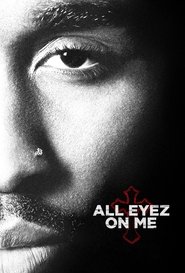 All Eyez on Me (2017)
Tells the true and untold story of prolific rapper, actor, poet and activist Tupac Shakur. The film follows Shakur from his early days in New York City to his evolution into being one of the world's most recognized and influential voices before his untimely death at the age of 25. Against all odds, Shakur's raw talent, powerful lyrics and revolutionary mind-set propelled him into becoming a cultural icon whose legacy continues to grow long after his passing. ALL EYEZ ON ME stars Kat Graham, Lauren Cohan, Hill Harper, Jamal Woolard, Danai Gurira and Demetrius Shipp Jr. as Tupac Shakur.
All Eyez on Me chronicles the life and legacy of Tupac Shakur, including his rise to superstardom as a hip-hop artist, actor, poet and activist, as well as his imprisonment and prolific, controversial time at Death Row Records. Against insurmountable odds, Tupac rose to become a cultural icon whose career and persona both continue to grow long after his passing.
Duration: 139 min
Quality: 720p HD
Release: 2017
Movie Tagline: Legends never die
4