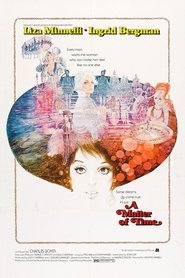 A Matter of Time (1976)
Nina has just started working as a chambermaid in Rome's Imperial Hotel, a once grand but now slightly run down establishment. She works alongside her cousin Valentina, who encouraged her to do this work to expose her to a better life. One of the people whose room Nina attends is seventy-two year old Contessa Lucretia Sanziani, a longtime resident who has been estranged from her husband, Count Carlos Sanziani, for forty years. However, her stay at the hotel is threatened when her money stars to run out and the Count informs the hotel that he wants nothing to do with her, even if something serious happens to her. The Countess was once considered the "love goddess" of Europe, she who still lives in the fantasy of that life and her memories. In Nina, the Contessa sees a younger version of herself, and encourages her to be herself and that people will notice. The Contessa also takes her under her wing in providing a more polished version of herself to the world. During this process, the Contessa slowly loses grip on reality, but perhaps not before she is able to realize Nina's transformation into a version of herself of which the world has taken notice.
Duration: 97 min
Quality: HD
Release: 1976
Movie Tagline: The adventure of discovering the joy of being a woman.
5.1